Character Analysis: Brian Johnson
Well it's almost that time of year again. Another school year has come and gone. Many students are looking forward to graduation, while others are looking forward to Summer vacation. So I decided that in honor of the end of another school year, I would write a Character Analysis on a student character in film. Very few films stand the test of time and hold as much relevance today as they did back then as John Hughes 1985 cult classic "The Breakfast Club". The story of a group of 5 students from different social groups and backgrounds who are forced to spend their Saturday in detention. Instead of working on the essay their Principal assigned them to write, they spend most of the day talking, arguing, sharing stories about their home lives, smoking pot, dancing, and just trying not to get caught by Mr. Vernon. Anyone of the characters from "The Breakfast Club" would have been a great choice for me to write a Character Analysis on, but the one I have chosen to write one on is Brian Johnson: The Geek.
CHARACTER
: Brian Johnson from "The Breakfast Club" (1985)
Brian Johnson from "The Breakfast Club"
Brian Johnson is one of 5 students at Shermer High School forced to spend their Saturday in detention. Early on we see Brian has come to the detention prepared to study and work on various class assignments. As his day progresses we view him desperately trying to seek the approval of the others. When questioned by student John Bender, if he's still a virgin, Brian makes up a lie saying that he lost his virginity to a girl he met at Niagara Falls, and then lies and said he also had sex with Claire—a popular girl in the Saturday detention with them. Brian is in detention because his flare gun went off in his locker. Brian admits that this is the reason why he is in detention when he's sitting around the library with the other students. When asked by Andrew why he had a gun in his locker, Brian replied "I can't have an F". Brian tells his classmates that he failed his Shop Class earlier this year; it was the first time he ever received an F. Brian goes on to tell the others about how strict his parents are with his grades, and how he's devastated at the loss of his perfect Grade Point Average. This confession makes Brian appear somewhat mentally unstable and anal retentive. Brian's stress over his grades is most likely brought on by the pressure from his parents to achieve academic perfection. He says that "I can't have an F. And I know my parents can have it", so by that we can accurately assume that his parents hold him to the highest standard (academically). It is unclear if Brian brought the flare gun to school mistaking it for a real gun, but it is heavily implied that he was having suicidal thoughts over receiving an F. Claire tells Brian that "killing yourself is not an option" to which he snaps back "Well I didn't do it!". Why a student deserves a Saturday detention rather than psychological help for contemplating suicide is beyond me, and I'm just going to chock that one into the "it was a different time back then" scenario.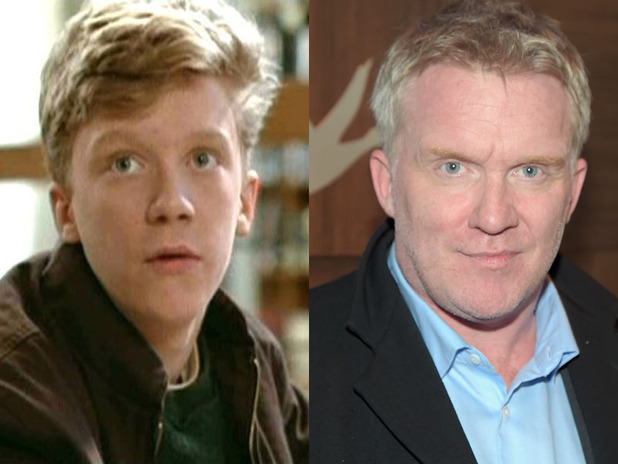 Anthony Michael Hall
Brian is played by actor Anthony Michael Hall. This wasn't the first time Hall has played the Geek character in a film. In fact, he's the actor who revolutionized the Geek character in film and made him the everyman that people like and root for. Before Anthony Michael Hall, most film characters who played geeks were neurotic and panned up for comedic relief like Jerry Lewis's character in "The Nutty Professor". Anthony Michael Hall's geek character archetype led to many successful and beloved acting performances in films like "Sixteen Candles", "Weird Science", and "The Breakfast Club".
THE CHARACTER IS SIMILAR TO OR INSPIRED BY
:
As I mentioned above, Anthony Michael Hall has set the standard for how to play a geek character in film. Every other geek character in film pretty much takes direct inspiration from Anthony Michael Hall, everyone form Ducky in "Pretty in Pink" (another John Hughes film), to McLovin in "Superbad", and Columbus in "Zombieland". All share many distinctive similarities to all of Hall's performances. Their characters are socially-awkward, (usually) intelligent, they have unique but distinguishable quirks, and they fail time after time at trying to pick up women.
Ducky from "Pretty in Pink"
McLovin from "Superbad"
After spending the whole day talking to the others and sharing in some friendly bonding and experiences that may last a lifetime, Brian has to come to a sad—but inevitable—realization. When school resumes on Monday morning, they will most likely go back to their own social groups, and will not remain friends. Even with this devastating news from his newest friends, Brian tells the others that he would never shun or ignore any of them if they approached him in the hallway; even though they all told him that they would most likely turn away from him if he approached them. As the detention draws to an end, all the others approach Brian and convince him to write the essay that they were all supposed to be working on during their detention, since they consider him to be the smartest. Brian agrees to do this favor for his new friends and composes a letter roughly 1/10th the size that their Principal instructed them to write at the beginning of the detention setting. The essay that Brian wrote is read out loud as the film ends, and he signs it "Sincerely Yours, The Breakfast Club".