Character Analysis: Wallace Wells
I'm not as big a fan of comics as many people, but there are some comics I'm rather fond of. One of my favorite comics is Bryan Lee O'Malley's Scott Pilgrim comics. I've always identified with the titular title character, Scott, so much. I mean we're both socially awkward Canadians in their mid-20's who play the bass, and have an evil ex-girlfriend who's a singer...you can't be more relatable than that. I'm also a huge fan of the movie based on O'Malley's comics, so I asked my friends to pick a character from the Scott Pilgrim universe for me to write an analysis on, and by overwhelming request they I chosen Wallace Wells as the Character for my Analysis. Now, just to clarify, I'm only doing an analysis on Wallace from the film version, and not the Wallace from O'Malley's comics (because they do have some significant differences).
CHARACTER
: Wallace Wells from "Scott Pilgrim vs. the World" (2010)
Wallace Wells is the "cool gay roommate" of Scott Pilgrim in both the comics and the film. Although, not state in the film, it is revealed in the comics that Wallace has a day job working in an office. He shares a very tiny apartment with Scott and more or less pays for everything they have. He and Scott even have to share a mattress on the floor. Wallace cares about, Scott but also teases him a lot. It is Wallace who rats out Scott to his younger sister Stacy, and tells him that he is dating a 17-year-old girl named Knives Chau. Wallace in the film is also a fun loving bachelor in the film. At the first battle of the bands he steals Stacy's date, Jimmy, away from her. Judging by Stacy's reaction, in the film, this is not the first time Wallace has done it. Wallace is a key figure in helping Scott train, figure out a battle strategy, and the locations of some of Romona's seven evil ex's. Wallace also helps Scott deal with his breakup with Envy Adams which shows that he does care for his friend Scott. And despite his own promiscuous behavior in the film, Wallace tells Scott that if he will tell Ramona the truth about him already having if a girlfriend unless he breaks up with Knives.
Wallace Wells is played by actor Kieran Culkin who is the younger brother of former child star, Macaulay Culkin. He was absolutely hilarious in this role. Culkin's brother, Macaulay, played a gay character in the film "Party Monster", and was very overly flamboyant & stereotypical with his role, so it was nice to see that Kieran took a more subtle approach to his role.
CHARACTER IS SIMILAR TO OR INSPIRED BY
:
According to the Comics creator, Bryan Lee O'Malley, Wallace is based off his former roommate Christopher Butcher, who is the co-founder PopImage; a website all about comics. I also believe that Wallace is your typical mentor character. He's the guy sent to there to help the hero/protagonist train and achieve their goal. I'd put Wallace in the same category as Mr. Miyagi from "The Karate Kid", Phil from "Hercules" (1997), and Paulie from the "Rocky" franchise.
Wallace Wells from "Scott Pilgrim vs. the World"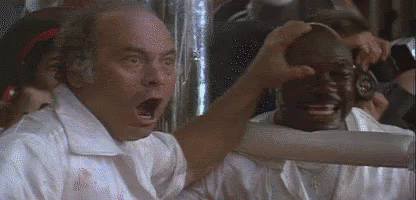 Paulie from the "Rocky" Franchise
After Scott's final battle at the Chaos Theater, we don't really find out what happens to Wallace, at least in the film. In the comics we find out that he is dating and living with his boyfriend, Mobile (who does not appear in the film), who is a psychic.