Character Analysis: Lieutenant Dan Taylor
"Forrest Gump"; just hearing the title of this Award Winning film immediately makes you think of many different quotes like "Mama, always said life is like a box of chocolates" and "Run Forrest! Run!". So many memorable lines, and scenes, and characters make this 1994 and instant classic. I actually had quite a difficult time trying to pick a character to write this week's Analysis on. I didn't want to write one about Forrest because I thought that would take me weeks to write, so I put it to a vote again, and by an overwhelming response, the people have requested that I write one on Lieutenant Dan Taylor.
CHARACTER
: Lieutenant Dan Taylor from "Forrest Gump" (1994)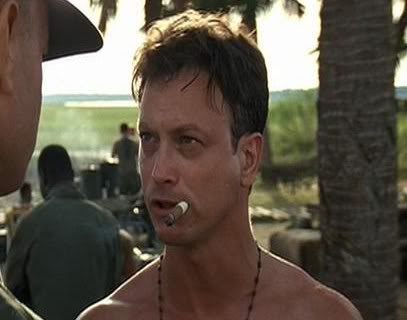 Lt. Dan Taylor from "Forrest Gump" (1994)
We aren't introduced to Lt. Dan until way into the film. We first meet him in Vietnam where he is the Lieutenant to Forrest and Bubba's platoon. According to Forrest, one person in Lt. Dan's family has fought and died in every major American war. Lt. Dan believes he has a destiny to die on the battlefield with his men, just like his ancestors. This could imply that Lt. Dan possibly is a superstitious person. Despite the fact, that he is ready and willing to die in combat, he is very protectant over all of his men. After his platoon is ambushed by the Vietcong, Lt. Dan is badly injured, and calls for a massive airstrike to wipe out the Vietcong. Lt. Dan is completely aware that for him this means that he will be killed by friendly fire. Against his commands (and wishes) Lt. Dan is rescued by Forrest, and is taken to an Army Medical Center where he has both of his legs amputated. Lt. Dan becomes very resentful towards Forrest, for "cheating him out of his destiny" and also blames Forrest for turning him into a "crippled freak". Lt. Dan is later discharged from the army.
Lt. Dan after he loses his legs
The next time we see Lt. Dan is outside of a television studio in New York City. He confronts Forrest who has become a minor celebrity, and even received a Congressional Medal of Honor for his bravery on the battlefield in Vietnam. Lt. Dan is just as resentful as ever. Since his discharge from the Army, he has yet to find stable employment and is living off the Government (because he is disabled). He is now an alcoholic, and may be using it numb away possible Post-Traumatic Stress Disorder (PTSD). Lt. Dan later ends up defending Forrest after a prostitute (that he was acquainted with) asks if Forrest is stupid. He kicks out both prostitutes cursing their names.
After that we don't see Lt. Dan until after Forrest becomes a shrimp boat captain back in Alabama.
He promised Forrest that if he ever became a shrimp boat captain then he would become his first mate.
Lt. Dan proves he is a man of his word, but ultimately ends up giving more orders and running the entire operation over Forrest.
Forrest and Lt. Dan survive a Hurricane while out at sea and end up being the only shrimp boat in southern Alabama.
After that the Bubba Gump Shrimp Company becomes highly successful.
Actor Gary Sinise
Lt. Dan is played by actor Gary Sinise. Sinise did a phenomenal job with the role. When you think of all the characters in the film Sinise is the only actor who has to play their role with a variety of different ranges. When you look at all the characters: Forrest is always sweet & simple, Mama is always kindhearted & loving, but Lt. Dan starts off caring & humble, becomes cold & bitter and then eventually comes full circle. That's a lot of changes for one character to go through in just one film. Not to mention he had to play a Veteran of Foreign war who became physically disabled. That was probably the most challenging aspect of the role for Sinise. And since appearing in "Forrest Gump" has been on multiple USO Tours and puts on charity events to raise money for veterans who are disabled.
CHARACTER IS SIMILAR TO OR INSPIRED BY
:
Off the top of my head I can't think of any characters that Lt. Dan is similar too. If I really wanted to stretch it, I suppose I could say that he is similar to Willem Defoe's character Sgt. Elias Grodin in Oliver Stone's 1986 film "Platoon" their similarities are they both soldiers in Vietnam, and both are badly injured in combat. Their major differences—besides rank—is that Sgt. Grodin dies on the battlefield while Lt. Dan survives.
Lt. Dan ends up investing money from the Bubba Gump Shrimp Company in Apple Computers, and ends up making he and Forrest millionaires. The last time we see Lt. Dan in the film is at Forrest and Jenny's wedding. He is walking up right, and has new legs made out of titanium alloy. He is also engaged to a woman named Susan, and he properly thanks Forrest for saving his life on the battlefield years earlier.