Character Analysis: Agatha Prenderghast
I really enjoy the tagline on the poster
During October of 2012 there were three Halloween films out in theatres that were largely marketed towards children. They were "Frankenweenie", "Hotel Transylvania", and "ParaNorman", of these three films that were released in theatres, I thought for sure that "ParaNorman" was probably going to be the worst of the three, but much to my surprise/delight I actually enjoyed "ParaNorman" and I think that it was the best of the three films that came out in October of last year. "ParaNorman" was also probably the most adult of the three films. "Hotel Transylvania" is definitely a kid's movie. Tim Burton may have directed "Frankenweenie" and has made some other creepy films in the past, but it was still a film released by Disney, so they managed to keep the creepy/scary factor down to a minimum, but "ParaNorman" goes to some dark places in this film. I wouldn't recommend this film to parents who have kids under 12-years-old because I don't think a lot of younger kids could handle some of the content and images in the film. It's still a great film and to be perfectly honest it has one of my new favorite film characters: Agatha "Aggie" Prenderghast.
CHARACTER:
Agatha "Aggie" Prenderghast from "ParaNorman" (2012)
Agatha "Aggie" Prenderghast
Agatha Prenderghast appears in the Halloween stop-motion film "ParaNorman". Agatha was a Puritan girl who lived in the town of Blithe Hollow, Massachusetts in the 1700's. She was accused of being a witch by the oppressive religious zealots in her town and was found guilty of witchcraft and sentenced to death. The town now celebrates their most infamous resident every Halloween by having an annual festival, selling merchandise, and putting on a stage play about the trial of Agatha Prenderghast. There's even a statute of Agatha in the town square, where she is shown as being a mean, old, ugly witch. The only thing is that Agatha was not an old, ugly, witch; she was just a little girl who was no more than 10 or 11, and the town's residents still condemned her to die. Agatha was actually a "spiritual medium", but since she lived in a time in a town run by Puritanical Tyrants, she was killed for being different, and that sad, pitiful little girl turned into an angry vengeful monster that would use her powers to go on a violent tantrum every year and exact her vengeance on the town for what they did to her centuries ago.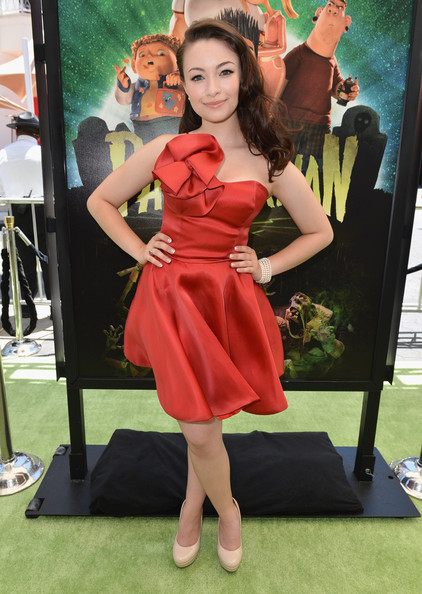 Jodelle Ferland at the Premier
One thing I really liked about Aggie was that when I first saw her on screen I was immediately reminded of Alessa Gillespie from 2004 film "Silent Hill", and then I was even more pleasantly surprised to learn that Aggie was voiced by Jodelle Ferland, who played Alessa in "Silent Hill". Honestly, they could not have gotten a better voice actress for this role than Jodelle Ferland. I know a lot of people think that she get's "type-casted" into these types of roles, but come on people, she's really good at what she does. I mean sure sometimes she does strike out with this type of role in films like "Case 39" and "Twilight Saga: Eclipse", but she also does great in this role in films like "ParaNorman", "Silent Hill" and "Cabin in the Woods" so who cares if she gets type-casted into these type of Horror roles? Do we like Jason Statham and Chuck Norris any less for being "type-casted" as Bad-a$$es in films? What about Jason Mewes? Does it bother you that he always has to play some stoner in a Kevin Smith film? I say if you're good at one type of role and people enjoy you doing it then you know what, keep it up.
CHARACTER IS INSPIRED BY OR SIMILAR TO:
Agatha and the town were obviously inspired by the 19 victims of the Salem Witch Trials of 1692. The town of Blithe Hollow, Massachusetts is clearly inspired by the actual town of Salem, Massachusetts. Though, the History Major in me feels that I must rightfully inform you that the actual Salem Witch Trials happened in Salem Village, which now present day Danvers, Massachusetts. I grew up in Massachusetts, and actually went into Salem on Halloween a few times with my friends and it is definitely the biggest and best Halloween party you will ever go to, the whole town get's in on it, like the residents of Blithe Hollow in "ParaNorman.
I thought I saw Jodelle Ferland in
this type of role somewhere before
I also believe that what actress Jodelle Ferland brought to the role was the same type of acting she used in "Silent Hill" for Alessa. I know a lot of people don't like the film adaptation of "Silent Hill", but for me personally it's one of my favorite Horror films, and if you watch Jodelle Ferland in "Silent Hill" and then watch "ParaNorman" you will see that their characters are almost exactly identical. Both characters were outcasts living in small towns that were run by Christian Fundamentalists. They were both taken away from their mothers at a young age and were killed by the Christian Fundamentalists and have now turned into violent and hateful beings with lust for vengeance from beyond the grave. Seriously, people they are the exact same character played by the exact same actress! I am not surprised that the studio would want Jodelle Ferland to voice Agatha Prenderghast because she's really that good of an actress who can still succeed by doing the same role.
"Angry Aggie" decides to change
When Agatha's ghost meets Norman, the films protagonist, she is reluctant to end her torment of the town, but Norman is persistent and tells Agatha she has every right to be angry with the town, and that he knows what it feels like to be an outcast, and explains to her how she is accomplishing nothing by destroying the town out of hate. Norman persuades Agatha to stop by reminding her of happier times in her life with her mother. Now that Agatha has found peace she can finally move on to the afterlife.