Character Analysis: P.R. Deltoid
Hey, it's been a while since I talked about "A Clockwork Orange" on this blog so let's change that. So from the time I started doing this "Character Analysis" I've wanted to do one on a character from "A Clockwork Orange", and to most people the obvious choice would be to do one on the story/films main character Alex, but the more I thought about it, the more I began to see that it wouldn't be much of a challenge.
So sorry, little Alex. You're just not challenging enough
You see there are literally dozens of articles, videos and analysis's of Alex on the internet. Pretty much everything that can be said about him—in both the novella and the film—has already been said, and I really don't have a lot of new material or ideas I could bring to a "Character Analysis" of Alex. Even, if I still wanted to write an analysis of Alex it would be far too long, and I'd probably have to break up the article into much shorter articles so as not to overwhelm you, the reader. I really wish I could have done a character analysis on one of Alex's cellmates, but unfortunately they were all left out of the film. As for his Alex's Droogs, well they were enjoyable, but just not as enjoyable a character Alex. Plus, Director Stanley Kubrick did make some significant changes to the characters in the film that differ from Anthony Burgess novella, and I feel like I would have spent more time talking about the differences in the characters between the novella and the film rather than analyzing their character.
However, there is one other character in "A Clockwork Orange" that I always enjoyed and he often get's over looked at that characters is P.R. Deltoid, Alex's Probation officer.
CHARACTER:
P.R. Deltoid from "A Clockwork Orange" (1971)
P.R. Deltoid from "Clockwork Orange" (1971)
P.R. Deltoid is Alex's "Criminal Rehabilitation social worker" who was assigned to watch over Alex after an earlier incident (not mentioned in the novella or film) and keep him out of trouble and from making bad choices. In the novella he's kind of a dweeb who tries to see the good in everyone and just does a really bad job at trying to motivate Alex and keep him from doing bad things. In the novel, we are first introduced to him after Alex skips school and he shows up at Alex's flat to talk to him about working hard and staying out of trouble. And what does Alex do right after this little "pep-talk"; why he goes out and drugs and rapes two 10-year-old girls of course.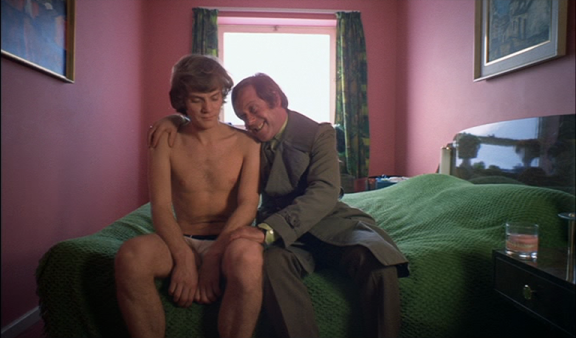 Bad Touch! Bad Touch!
However, in the film, he comes off more as cunning and is aware of whom he's dealing with. In the film you get the vibe that Mr. Deltoid is fully aware of what Alex is capable of doing and that he knows deep down he's probably been doing some of those things. His relationship with Alex in the film comes off as "I don't like you, but I'm stuck with you! So stay out of trouble and don't cause me to lose my job!". I think this change to his character in the film definitely makes him a more enjoyable character. He's also kind of bossy. At one point he lies Alex down on the bed next to him and grabs him by the balls as if he's saying "don't-let-these-impede-with-your-progress. Don't-let-these-get-you-into-trouble".
The last time we see Mr. Deltoid—in both the novella and film—he is visiting Alex down at Police Station.
Alex has been arrested and charged with murder, and Mr. Deltoid says that he is at "the end of the line [with Alex]".
He tells Alex that he is on his own from now on and that he no longer responsible for trying to make Alex a parting shot, he spits in the face of Alex and that's the last we see of him in the film.
Actor Aubrey Morris
The Actor who plays P.R. Deltoid is Aubrey Morris. Besides this the only other notable film that he's appeared in was "The Wicker Man" (1973). What I like about Morris's portrayal of P.R. Deltoid is that he isn't playing it with blind ignorance like in the novella. He knows what Alex does and what he's capable of doing and he lets Alex know that he won't always be there to rescue him or come to his aid. To which Alex scoffs. I also really like the way he talks in this film. He speaks with an upward inflection when he talks. Everything he says, ends with him asking a question. I can't really explain it that well, but I thoroughly enjoyed how he read his lines. So much so, that when I was in college the first production I was in required us to speak with English accents, and my opening monologue in the production was 3 pages long and my first 40-or-so lines were questions, and so at the first rehearsal I was reading my lines like Mr. Deltoid as a joke...well the Director and Stage Director thought it was really funny and I was required to talk like Mr. Deltoid through the whole production. So Aubrey Morris has influenced my stage work some.
Character is similar to or Inspired By:
I couldn't find any characters in any film that P.R. Deltoid is similar to. I do think he kind of sounds like Tim Curry in the film, but his voice was not inspired by Tim Curry because Tim Curry's first film role didn't come until 4-years after the release of "A Clockwork Orange".
The way he talks is just so interesting.
We don't really know whatever happened to Mr. Deltoid. The last we see or hear from in the film and novella was when he spat in Alex's face down at the police station. Presumably, he went back to his job, to serve another misguided youth. I think they could have done a lot more with his character though. I think it would have been great for him to have been one of the guests at the Minister of The Interiors demonstration following Alex's stint through the Ludovico Technique. Maybe, then we could have gotten his opinion on whether he thought it was the best thing for Alex, or maybe he would have said something like "once a delinquent, always a delinquent". That really is a change I think Stanley Kubrick should have made in his film version. I think Mr. Deltoid had a lot more he could have offered the film, but oh well. It is what it is.